Marina Sports City Residencia ; Most Secured Offer in Pakistan Real Estate Market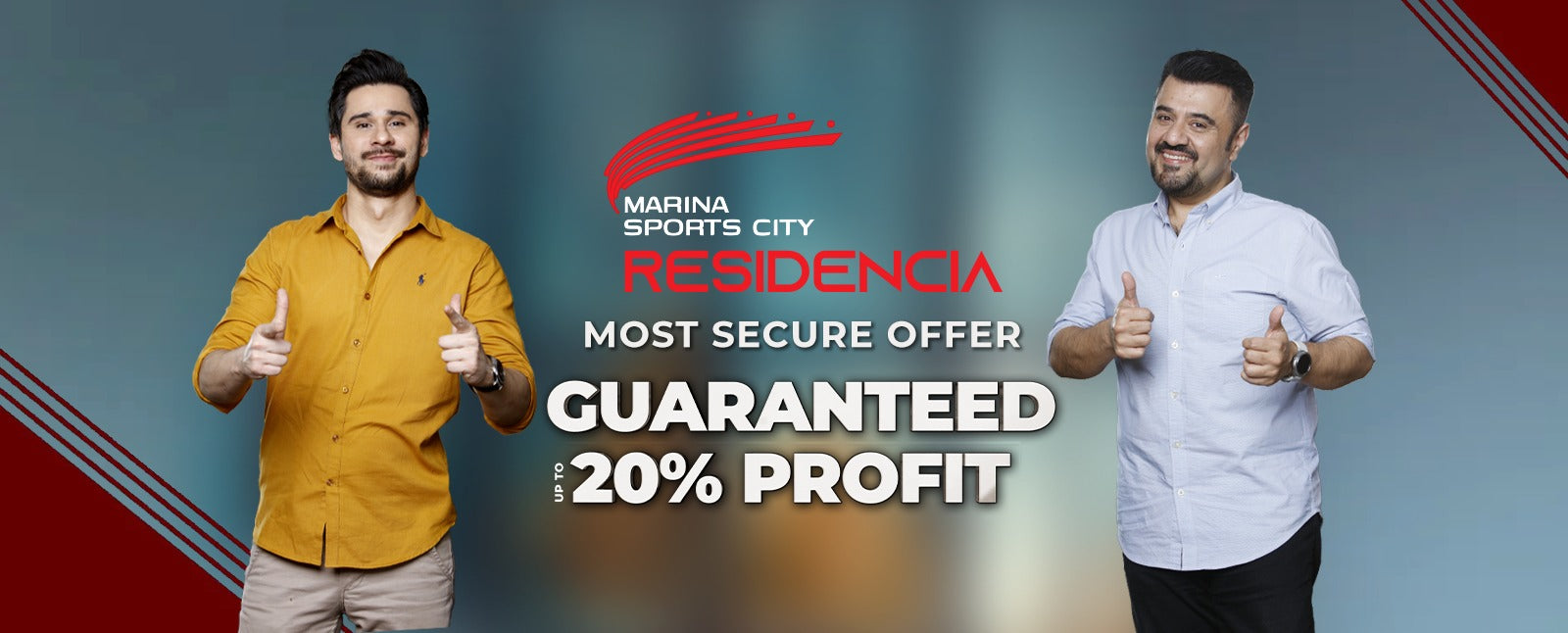 Marina Sports City Residencia and Al Jalil Developers have once again taken the real estate market by storm as they offer a revolutionary deal in the real estate history of Pakistan.  At a time when of massive economic turmoil and uncertainty, making hefty investments is a daunting idea. However, what if we know that not only is our investment safe, but is also guaranteed to yield an amazing profit. Marina Sports City Residencia has the answer to all our woes as it offers the safest investment and a guarantee of profit up to 20% off to all its customers, something completely unheard of in the real estate market so far.
Lahore has always been the hub of modern urban living in Pakistan. From its ancient identity as the Qalandars City or the city of saints, the city's evolving identity revolves around its physical growth. Lahore's historic roots date back to centuries ago as the city enjoyed the richness and splendor attached with the Mughal era and royalty, most of whom resided in Lahore at one point or another. This status of Lahore as home to Mughal royalty also gave way to its connection with Sufi saints and Qalandars residing in the city and acted as mentors to kings and royalty, and hence the popularity of Lahore as the Qalandars City.
The modern identity of the city is however rooted in rapid expansion as an urban center. Lahore is home to over 12 million people which is continuing to rise every minute with a massive influx of rural to urban migration. This trend has also resulted in new challenges for the city which is under increasing pressures for a growing need for housing solutions for the rising population. It is equally relevant however that the current economic situation has added fuel to the fire leaving people incapable of making heavy investments.
Keeping the needs and constraints of the customers in view, Al-Jalil Developers and Marina Sports City Residencia have introduced an offer like never before. In addition to a highly attractive and affordable price plan, an investment in Marina Sports City Residencia comes with a guarantee of the safest investment and up to 20% profit. Marina Sports City Residencia is a premium real estate project and promises the features and amenities of luxury living standards. A high-end real estate project promising world-class amenities and features at the most affordable rates and a guarantee of up to 20% profit is definitely an opportunity of a lifetime and not to be missed. It is hoped that this offer will provide the much needed ease and certainty which is missing in the current economic atmosphere.
Posted in

Aljalil Develoeprs, best developers of lahore, best plots in lahore, best towns in lahore, Blog, lahore best plots, marina sports city, Marina Sports City residencia, plots on installments, property for sale in lahore, Qalandars, Qalandars City, Real Estate Market, residential plots in lahore, Small Houses, societies in Lahore, west marina