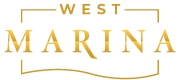 WEST MARINA

Al-Jalil Developers is proud to present West Marina, a luxurious mixed-use development located within the esteemed Al-Noor Orchard Housing Scheme in Lahore. Built with the modern and discerning individual in mind, West Marina offers a world-class residential, retail, and corporate experience. With a focus on sustainability and community living, West Marina has been thoughtfully planned by internationally renowned town planning and consultancy firm Surbana Jurong to provide the ultimate comfort and convenience.

Located in the heart of Lahore West, West Marina is an exclusive residential community that offers an unparalleled living experience. Built with the most modern and world-class residential, lakefacing plots and villas, retail, and corporate solutions, this luxurious development is a true testament to Al-Noor Orchard's commitment to excellence.

West Marina boasts an elite lifestyle surrounded by world-class amenities and facilities. From the Water District, with its picturesque waterways and marinas, to the Education District, with its topnotch schools and universities, West Marina has something for everyone.

Residents of West Marina can also enjoy a variety of recreational activities in the Garden District, which features lush green parks and gardens, as well as the Medical District, which offers a range of healthcare services. 7th largest Grand Mosque designed by the renowned Nayyer Ali Dada and with the Central Business District, residents can enjoy easy access to a range of shopping, dining, and entertainment options.